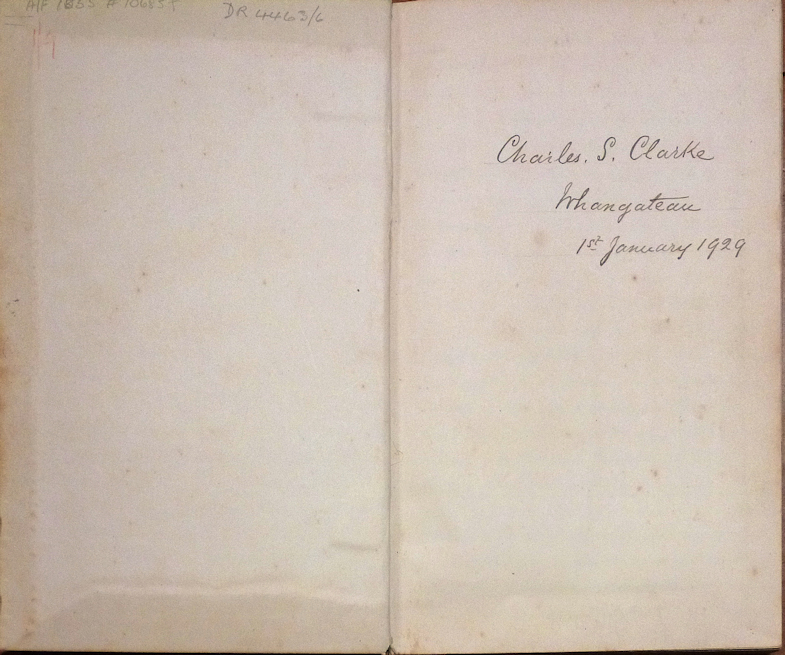 Tuesday 1st   It was very fine in the morning.  The Annual Sports  & Picnic was held in the Domain.  A number of cars were parked on the ground & road, but there were not so many people present as last year.  I met a lot of old friends .  We had a long cloth spread for lunch and the following families supplied the various eatables;  J. Dunning,  W. Dunning,  Evans,   H & T Ashton,   L. Whitaker  &  G. Wallace.
Two of our Parsons were present Revd Yule & Hart.  It came over very thick and slight rain late in the afternoon, and many went home, however it was only a shower for the sun came out again and it was a fine evening.  There was a dance in the evening.  All from this house but me went.
Wednesday 2nd   A General Holiday and a very fine day, a nice cool breeze blowing.  There was a Cricket Match in the Domain between Omaha club  V  Visitors which was very interesting to watch.  Omaha batted first and made 295 runs, Jim D made top score 69.  The visitors made 125.  Many old players composed the visitors.  Ike & Bill Mills,  Fletcher,  J. Salt,  D. Darroch.  The ladies provided the players and others to lunch on the ground.  There were also several parties picnicing on the domain.
Thursday 3rd   It was a fine day.  Heard that Mrs C. Gravatt was taken seriously ill last night and had to send for the Doctor, so Elva had to go to look after her mother, so they got Jean to go to keep house for Jim Wyatt and children.
Jim and Hector were digging potatoes and planting Kumeras.
I watered and dug in vegetable matter below the Challenge Beans.
Friday 4th   There was a heavy shower during the night, but it was very fine today.  I was digging between the crops and watering the tomatoes.  The members of the Matakana Plunket society held a picnic in the domain.
The Leigh Postmaster brought me £10 that my son Henry sent me.
The body of Luley Brown son of Mrs Kiri Brown was picked up floating near Maori Island and brought ashore this morning.
An Inquest was held this afternoon and he is to be buried tomorrow morning.
Saturday 5th   It was a very fine day.  There was no cricket match here today as Omaha has got a by.  Charlina (Mrs A. Dunning Junr) came in the afternoon and staid the night.
Sunday 6th   It was a fine day.  Mr Birss conducted service in the morning, there was a fair congregation.  Collection 18/-
Charlina returned to Leigh after tea,  Ralf Birdsall took her in a car.
I wrote a letter to Elliot and Margaret Clarke of Sydenham, England.  Also packed up a Weekly News, these will be posted tomorrow.
Monday 7th   It rained in the morning, but was very fine in the afternoon and evening.  Jane went to spend the day at Big Omaha.  I sent Mrs Wallace a nice lot of Peerless Peas.  Also gave Trevor Gravatt a large cabbage.
Tuesday 8th   It was a fine day.  I have not much to do in the garden now except to water when required.  Jane & Jim went to H. Ashtons in the evening, as the Mills who are staying there the men folk are going away tomorrow.
Wednesday 9th   It was a very fine day.  Mr Birss who has been bringing boys down to camp at Ti Point for over 20 years came to see me in the afternoon, as he is Lay Reader at St Matthews Auckland we had a long talk on church matters, he went to look at my garden which he said was a credit to me.  Jane gave him afternoon tea.  Mr Birss' boys and the local boys had a cricket match in the afternoon.  The scores were Visitor  35,  Local 106.
Thursday 10th   It was a very hot day.  Jim sowed Turnip seed where he dug the potatoes out near the house.
Friday 11th   It was a very hot day.
Saturday 12th   It was a very fine day.  There was a cricket match at the Domain, Omaha  V  Mullet Point .
Omaha batted first and made 340.   Pat made 153.   E. Wyatt 23,
Joe Torkington 71,   J. Dunnings 35,  J. Wyatt 18,  W. Biorklund 10,
Mullet Point 1st Innings made 67
L. Anderson28,  A. Martin 12
Mullet Point 2nd Innings  31 runs
9 wickets down when stumps were drawn so Omaha only got a 2 point win.
The ladies provided a good lunch and tea.
Sunday 14th   [sic: 13th]  It was a very fine day.  Revd Yule held service in the morning.  There were over 30 present.  After the service our family adjourned to the domain and had lunch and tea under the shade of the trees, we were joined  [by]  the Wallaces, Laurence and Alma.  Ken and his family had come from Devonport in his car, and later on was joined by Mr & Mrs Shaw (formerly Leila Entwistle).   Revd Hart was  [to]  hold service at Pakiri and Leigh, so I packed a bag of vegetables and left it in the cream box for him to call for on his way home.
Monday 15th  [sic: 14th]   It was a very hot day.  There was a cricket match at Matakana.  Omaha junior club  V  Matakana Juniors,  Omaha won,  Jim went and acted as umpire.  I have very little to do now except watering the crops.
Tuesday 16th   [sic: 15th]  It was a very fine day.  Minnie, Victor Smith, Alma and their boy,  Eyleen (Mrs Roddie Matheson) & her baby girl came to spend the day.  They had a look at the gardens.  After they had left Lizzie & Bella Mills came, had a look at the gardens and joined us at a late tea.  I picked the first Homestead Beans .  These were sown on the 20th October.
Wednesday 17th   [sic: 16th]  It was a very hot day.  I picked the first Scarlet Runner Beans.  They were sown on the 7th of November.
Thursday 18th  [sic: 17th]    It was a very fine day.  I took some S R beans down to Dolly and borrowed some newspapers.  Ken Wallace, Tillie and the boys came in the car in the morning and took Lattie  back with them .
Friday 19th   [sic: 18th]  It was a very hot day.  I took the sticks up of the 1st two rows of Stratagem peas, tied them in a bundle and staked them near the fence.
Saturday 20th  [sic: 19th]  It was a very fine day.  There was a cricket match at Warkworth   V  Omaha.  Harry Ashton rang up saying that he could take 3 of us in his car, so Jane, Hector and me, and we spent a very pleasant day.  Warkworth batted first and made 39 runs ,  Omaha made 80.   Warkworth 2nd innings made 98 runs ,  Omaha 2nd innings made 90 with only 4 wickets down, thus Omaha got a 3 point win.
Sunday 20th   It was a very fine day.  As there was no service here to day, 3 cars went from here to Leigh to spend the day,  Mr Wallaces, Ken Wallaces and Mr Whitakers.   Jim, Jane, Hector, Mildred and I went in the latter car.  Pat Dolly and the children went in the other cars.  We had lunch and tea on the beach near Mr Guyers house,
I showed Mr Wallace  Wyatt's saw mill,  all of us went on the road  the other side of the harbour ,  the children and the men folk went in for a bathe as the tide was in.   Leigh is now a favourite place for visitors , as we saw quantity of people bathing and walking about.
Monday 21st   It was a very fine day.  Hector helped me give the Homestead and Scarlet Runner beans a good soaking of water, we emptied the tub and cleaned it out.  Afterwards I emptied the pool and cleaned all the mud out of it.  Miss May Ashton and a lot of Tom's children who are camped at Lew's bay came here in the evening.  Jane showed her my garden in the moonlight.
Tuesday 22nd   It was a very fine day.  A picnic was planned to go to Goat Island Beach.  3 cars went Mr Wallaces,  Ken Wallaces and Charlie Whitakers, we were invited to join them,  Hector, Mildred and I went in Whitakers,  Jim & Jane went in Wallaces.  All the young folk went bathing, the men went out in a boat fishing and caught a big schnapper  –  Jean who is staying at Jim Wyatts joined up – I went to call on Mrs Alec Matheson and she came and joined us at tea.
Wednesday 23rd   It rained heavily last night which will do a lot of good as the ground was getting very dry, but a wind sprung up and soon dried the ground up.  I went down to Pats to beg a Herald to send to my nephew Edmund Hudson, also directed a Weekly News to send to him.
Thursday 24th   It rained last night and a little this morning , but turned out a fine day, but windy.  Hector took the horse to Matakana to get shod, and Jane rode to Leigh in the afternoon.  I wrote a letter to my nephew Edmond Hudson of Leicester.
Friday 25th   It was a fine day, but windy.  In the morning I walked to the Post Office to post the papers & letter to Edmond Hudson.
Mr & Mrs Stewart and 2 children came to spend the day, they came in the service car and returned in the Star bus.  Dr Whetter who visited Mr Whitaker does not give him many days to live.
Saturday 26th   It was a very hot day.  There was a friendly cricket match at the domain, Leigh  V  Whangateau.  Leigh won.  Jim & Hector played.  Jane and I had our lunch at home, Jane went to the domain in pm.
Sunday 27th   It was a very hot day.  We heard that Mr Whitaker had died last night, he has been ill a very long time.
Revd Marr held service in the morning and Revd Hart in the afternoon,  I went to the latter service.  There were only 11 present.  Collection 10/- .
Monday 28th   It was a very fine day.  Jim and Murray Birdsall dug the grave for Mr Whitaker.  The funeral left the house at 2 pm.  It was the largest funeral I have seen here, people coming from all round to show their respect, and many beautiful wreaths were placed on the coffin.  Revd Yule (Presbyterian) officiated at the grave, but the other two ministers, Revd Marr & Hart were present.
Tuesday 29th   Auckland anniversary.   It was a fine day.  The Rodney cricketers went  [to]  Whangarei to play against the local Association and won.   I wrote an obituary notice of Mr Whitaker for the Auckland Herald and the Rodney Times.  Also a sympathetic letter to Mrs Whitaker, these I took to the P. O in the evening.  Dolly and the children came to see the garden in the evening.
Wednesday 30th   It was a fine day.  Mr Perks came to Dolley's in the evening.  I ordered a pr  of pants.
Thursday 31st   It was a very fine day, there was a cricket match at the Domain,  Omaha  V  Matakana junior clubs, they had 2 innings each.  Omaha won by over 40 runs, great interest was taken in the game, there was a good attendance.
Rainfall for January registered at P. O  Warkworth totalled 1.30 inches.  Maximum of 0.31 inches on the 7th.